How to have a long streak (> 100) on WIP.co without being stressed?
I will go for a ski holiday in August 2022.
As of 2022-06-10, I am on 109 straight for updating on wip.
As of 2022-06-10
I have a > 80% confidence I will keep this streak into my ski holiday.
So how do I do it?
## First things first, a habit to write down what you did on daily basis
I write down what I intend to do on daily basis in a daily note markdown file.
Then i ✅ those I completed.
I moved those I cannot complete to a future date daily markdown.
This is the section of what I intend to do in 2022-06-09 markdown
Screenshot of my markdown in VS Code
Notice how I'm grouping my tasks based on my wip.co hashtags.
The uncompleted ones have already been moved to future daily markdowns.
## Telegram is my secret weapon
There's a wipbot in telegram
It's the 2nd one @wipbot
There's a scheduled message button in telegram
Inside telegram
Use scheduled message inside `wipbot`.
Use `/mdone` to post multiple done tasks for the same hashtag.
What it looks like on telegram after copy-pasting from VS code and with `/mdone`
Make sure only have 1 tag per `/mdone` and make sure it's on the same line as `/mdone`
Make sure your tasks that are meant for your tag are on separate newlines.
Hit Enter and select the date to schedule that message.
Calendar to schedule message
Which brings me to the most controversial or counterintuitive part of my strategy
## Use Buffers
If you're observant enough, you would notice I finished the tasks in the above example on 2022-06-09. But I am posting them for 2022-06-18.
That's the final part of my strategy. I use buffers.
Initially, I started by dividing up my real completed tasks in a single day and sprinkled-scheduled them into multiple dates in the future.
Once I have enough buffer, I no longer spread. I just take whatever I completed today and scheduled them in a single future date. This maintains my buffer.
So whenever I have a "do nothing" day, it's fine. I have buffer.
If my buffer is going too low, I will again take my completed daily tasks in the same day and spread them across multiple future dates to build up my buffer again.
## I'm not alone in ensuring streak by using workarounds
Everybody has different way of ensuring their streak while living a balanced life. This is mine.
I know someone who simply posts their rest day activities to ensure their streak and hashtag as `#life`.
I prefer having buffers of completed tasks instead of posting my rest day activities. Also buffer allow me to be human. Being human means I can fall sick and forget. I can go on holiday and turn off all socials.
Being human should be the center of any systems we adopt.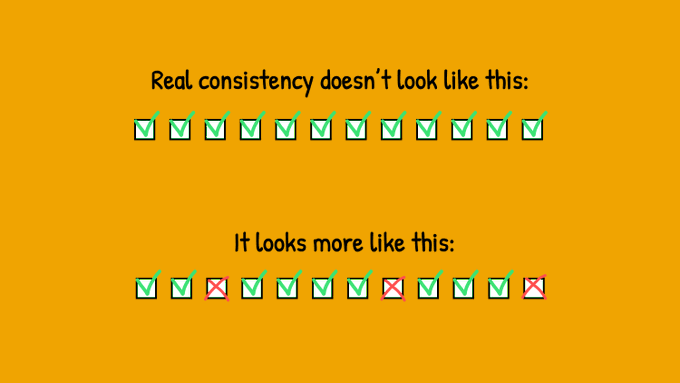 From https://twitter.com/AlexLlullTW/status/1534840244012568576
What's your strategy of ensuring streaks in wip.co while staying sane? Share yours below.